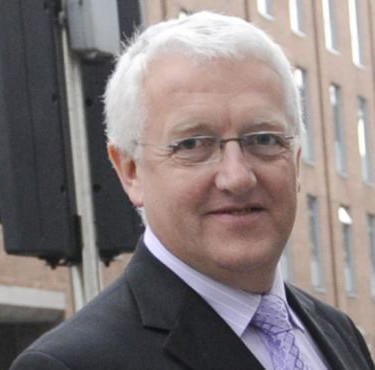 Steorn introduced its HephaHeat water heating technology back in 2011, and spun it off to a new company, also called HephaHeat, two years ago. Now HephaHeat has outlived Steorn, but its recent boardroom shuffle and fundraising difficulties don't appear to bode well for its own future.
According to an article published this week in Ireland's Sunday Business Post, HephaHeat's board of directors is losing Mike Daly, a co-founder of both Steorn and HephaHeat, and Roger Hatfield, who was formerly Steorn's chief financial officer. The new chairman will be long time Irish politician John V. Farrelly (pictured above).
The article goes on to report that HephaHeat has recently raised €100,000 from its many small investors, falling short of the €300,000 they sought, but bringing the total amount that HephaHeat has raised since its founding to €831,000.
When it was founded, HephaHeat projected €50,000,000 in annual royalties by 2017, and as early as 2012 Shaun McCarthy claimed that there existed contracts for the HephaHeat technology with the two largest water heater manufacturers in Europe and North America, worth a total of €25,000,000 per year.
By last summer, expectations had became significantly humbler — HephaHeat was reported to have joined up with Sony and celebrity chef Kevin Dundon to launch an app-controlled sous vide cooker. Even that, however, is still in the development stage.
According to the article, the company has also said that it is seeking to partner with Sony and Bosch on various products, including a kettle that boils in 30 seconds. They also said that they are "delivering a new quick water boiling system to giant heating appliances manufacturer BDR Thermea and was working on a 'contract renegotiation that favors HephaHeat'."
Shaun McCarthy has described the genesis of the HephaHeat technology as having come out of the electromagnetic version of the Orbo, controversially demonstrated at the Waterways Visitor Center in Dublin in 2009. The so-called "eOrbo" would emit a large amount of energy as heat (according to Shaun, more energy than was fed into it as electricity), which at first Steorn tried to eliminate. Eventaully they realized they could harness that heat as a quick water heating technology instead, and HephHeat was born. However, none of the online documentation about HephaHeat has ever claimed that it was an overunity technology, and it's unclear to what extent it may be related to Orbo.
The news of the board shake-up and fundraising shortfall, along with the continuing lack of any shipping products, hints that HephaHeat may be on its way toward following its parent company Steorn to the corporate grave. The one positive note here is that John Farrelly, who appears to be an experienced and well respected public servant, is now in charge. We'll see whether HephaHeat will manage to bring their Orbo-related technology to market, where Steorn failed.
Thanks to Aidan Sullivan for tracking down the Sunday Business Post article. The full article can be found here: