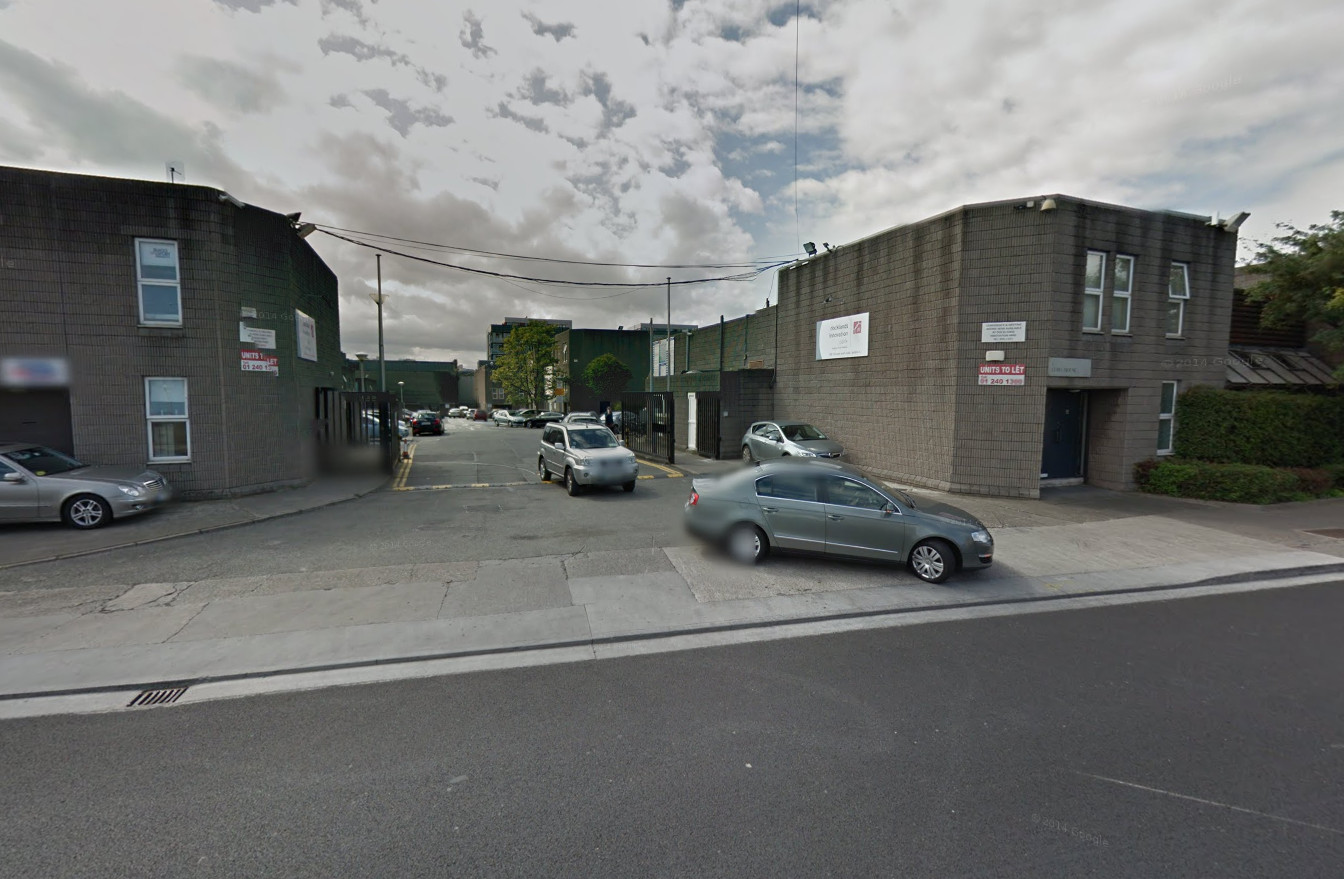 With Steorn's assets set to be liquidated, but no sign of any public information about the liquidation schedule or process, it remains an open question whether the Steorn offices have yet been cleared out and what has become of the company's property. Longtime reader and Dublin correspondent Aidan Sullivan sought to address these questions by stopping by Steorn's office location this morning.
What he found was a hurriedly abandoned space. Peering through the windows, he could see bare rooms that showed signs of having been cleared out in a rush, such as broken glass strewn across a hallway floor. At least in the areas that he could view from the outside, Steorn's property appears to have been removed from their old office space.
But Mr. Sullivan wasn't the only one investigating Steorn at their former premises this morning.
He happened to run into a camera crew for the award winning Irish current affairs television program, RTÉ One's Prime Time, who were on site recording for a segment about Steorn that is set to be broadcast this Thursday evening, December 8th, at 9:35 pm GMT. Viewers outside of Ireland should be able to view the segment through the RTÉ Player site.
Mr. Sullivan chatted with members of the camera crew during a break in filming, and found out some of what they have learned about Steorn's current situation:
No liquidator has yet been hired to sell off Steorn's assets. A shareholder meeting is scheduled to be called in the next few weeks to appoint a liquidator.
The program will not feature interviews with ex-Steorn staff. It will have footage of a German shareholder, a veterinarian, who has invested in a variety of potential clean energy technologies, and who has expected for years that the money he put into Steorn was lost.
The former financial controller at Steorn, Roger Hatfield, was apparently also a substantial investor in the company.
Prime Time failed to make contact with Pat Corbett, but did confirm that he raised 16 of the total 23 million euros of investment that has been poured into Steorn over the years.
Shaun McCarthy has recently moved, leaving his castle-style home in the Dublin suburb of Sandymount.
Prime Time hired an engineer to examine the Steorn patents; he found that they lack crucial information that would be necessary to replicate Orbo. The show's staff find the convoluted Steorn saga to be bizarre.
Special thanks again to Aidan Sullivan for all of this information. When and if we learn anything more about Steorn's planned shareholder meeting or their liquidation process, we'll post it here.
UPDATE 12/11/16: The Prime Time report on Steorn is now available online, here.