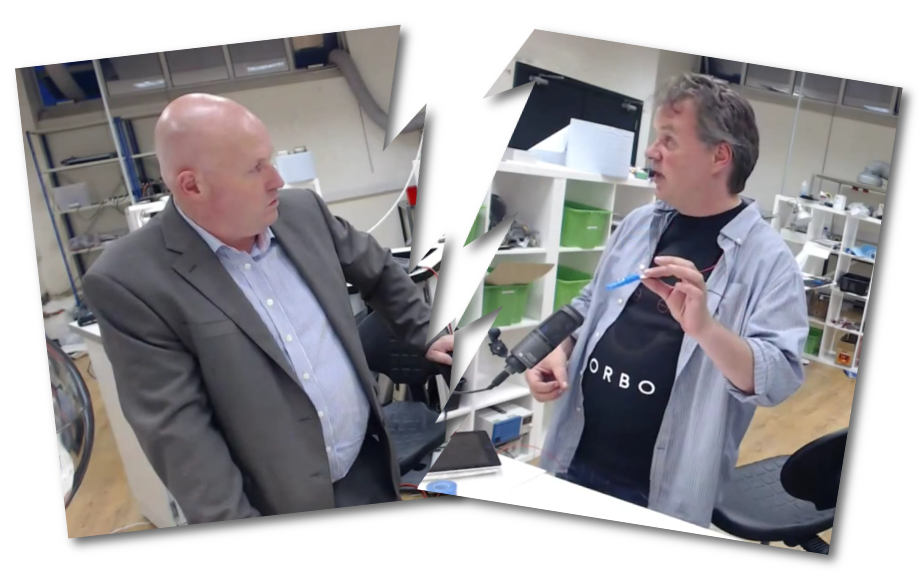 After a long social media silence that began when the Orbo product launch went awry back in February, former Steorn CEO Shaun McCarthy has re-emerged with a vengeance. In the past 24 hours he's been posting prolifically to his Facebook page, his Twitter account @orbomantweets, and a new blog he's launched titled orboman.
His posts include a mixture of observations and recollections that wouldn't be out of place in Dos Equis' Most Interesting Man in the World ad campaign. Most relevant, however, is one post titled "On betrayal.." In this post he tells the story of how investor Pat Corbett became involved with Steorn, directed its course over the past ten years, and was finally pushed out of Steorn this year after trying to take over.
He begins by recounting how he first met Corbett, when Corbett was looking for connections in the music industry to promote a musician, Marcus Fearon, whom he had invested in. Even as McCarthy's friends and trusted co-workers warned McCarthy to keep a close watch on Corbett, McCarthy grew to like him and "fell under the Corbett spell". McCarthy portrays Corbett as someone who has a "power about him" that is "difficult to deny", a "force of nature", and that "a guy with that much ability to convince people can be dangerous".
As Steorn was just discovering an "Orbo effect" that seemed to defy explanation, they began trying to raise money from venture capitalists. Corbett stepped in and offered to raise the money himself, which he did with great success. At first McCarthy kept a close eye on him, but eventually he got to the point of "just letting Pat do his thing."
McCarthy states that Corbett "had been fundamental in the direction that Steorn took with Orbo almost from the day of its discovery…Over twelve years every step the company took was a Pat step." He seeks to lay the blame for Steorn's failures at Corbett's feet, even while acknowledging that McCarthy, as CEO, had the final say. "While on paper I don't really get to complain about this, because I was at the end of the day his boss, I am anyway going to moan a bit about the man."
As McCarthy tells it, Corbett "distorted views of people inside and outside [Steorn]," and three times attempted to wrest control of the company. It was after his third attempt, earlier this year (which even after the previous attempts somehow surprised Shaun "like a bolt out of the blue"), that he "had to go."
One statement of McCarthy's seems to imply that Corbett was associated with organized crime:
The problem with this betrayal was that it did not just affect me, if Pat had got his way then Orbo would never make it outside of the lab and Steorn would be run by some guys who break ankles and kneecaps first, and debate later.
McCarthy concludes by asserting that Steorn is now finally taking Orbo in the right direction, even as Corbett and his group of investors continue to pose a threat:
Pat is no longer in Steorn, the company is 10 times what it was, doing great things at last. Doing what we should have been doing 10 years ago. Pat and his 'hard money' backers have not given up – but they will need to kill me to get their hands on Orbo, Steorn, or any part of it. I took 12 years to learn the lesson, but it's well learnt.
This is a fascinating peek at what's been going on with Steorn since their attempt to market Orbo collapsed. It's clearly from one highly biased perspective with questionable credibility. No doubt Pat Corbett, among others, would have a very different story to tell. So I would suggest viewing this not as an accurate account of what has happened with Steorn, but as the story Shaun McCarthy wants the world to believe — true or not. The interesting question then becomes, why? What caused McCarthy to come out of hiding and tell this story to the public?
One possibility that comes to mind is that Steorn is in potential legal trouble for fraudulent business activities, and McCarthy wants to place the blame squarely with Corbett. He portrays Corbett as someone almost preternaturally capable of manipulating others, and asserts that "every step" the company took with Orbo over the years has been at Pat's bidding. However, McCarthy goes out of his way to state that Steorn already believed that the Orbo effect was genuine before Corbett came on board ("we had some basic test data, we had a college going, yep that shit works and it should not"). Could it be that Shaun is setting up a defense that, even though they believed the effect was genuine at that time, they eventually realized it was not but that Corbett then led efforts to fraudulently continue the ruse anyway? That's possible, but McCarthy seems to insinuate that he still considers the Orbo effect to be real. He states that Steorn is "doing great things at last" and that Corbett's investors "will need to kill me to get their hands on Orbo," which only seems to make sense if McCarthy still believes in Orbo's potential.
To me it remains unclear just what McCarthy is trying to accomplish by writing this. It may become clearer in the future, as he states "I can't go into all the details (yet)". This could mean that possible legal troubles originate not due to fraud but due to dissatisfied investors: a lawsuit may be in the works between Corbett and his investors on one side, and McCarthy and Steorn on the other. If that's the case, it's a striking parallel with what's occurring with regards to another controversial potential energy source, the lawsuit between inventor Andrea Rossi and investor Thomas Darden over the status of Rossi's supposed low energy nuclear reaction (LENR) device, the E-cat.
This seems like the beginning of a new, and potentially bitter, chapter in the Steorn saga. The drama between former business partners is only so interesting — I just hope this will eventually lead to answers about how and why Steorn so confidently and spectacularly promoted the Orbo, only to be foiled again and again by naive and amateurish failures.