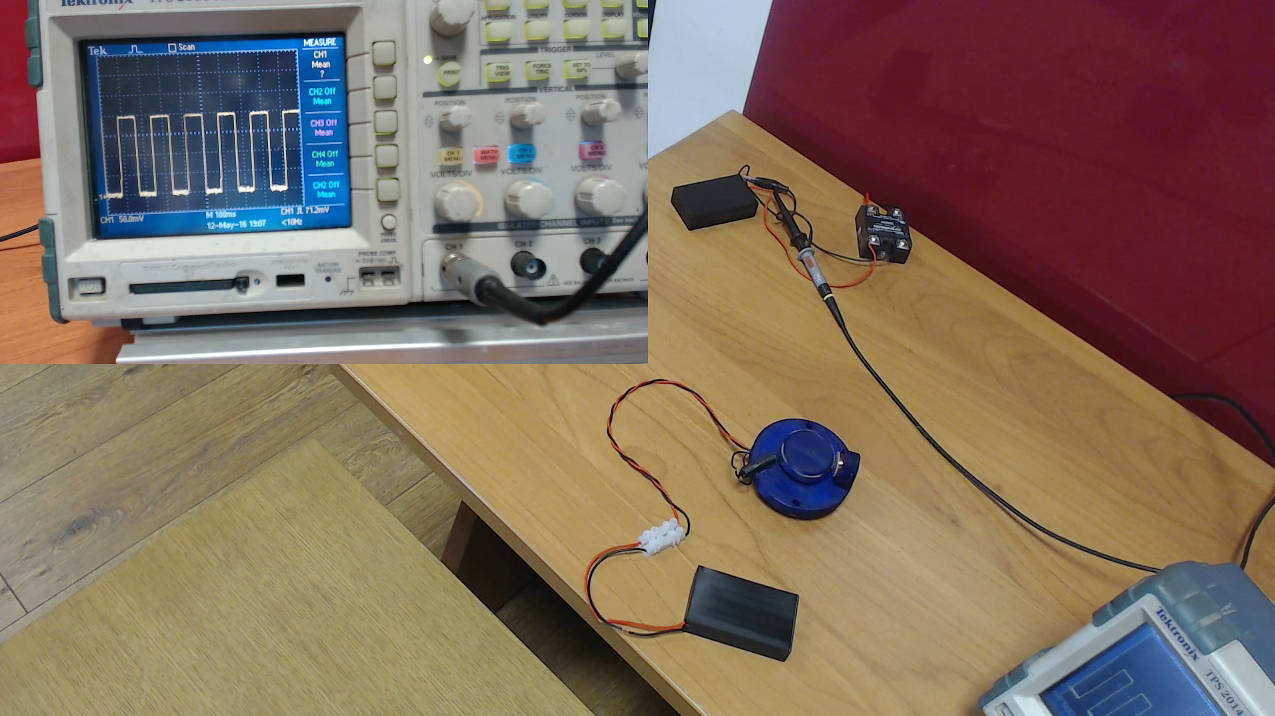 his morning Steorn began streaming a live test of an Orbo device on Twitch. The announcement on their Facebook page reads:
This video stream shows an Orbo power cell in long term reliability testing.

The test system comprises of an Orbo power cell that is being shorted through a relay at an approximate frequency of 50Hz (50 times a second). The trace on the scope is the Orbo power cell voltage.

The cell is being shorted and is recharging approximately 4.3 million times per day. Prior to the live stream of this power cell commencing on 12th May 2016 the cell shown had been shorted and recharged in excess of 350 million times.
The live video stream:
An update on the video streaming page describes the small electric motor seen spinning away on the table:
We have added a small test motor to the live stream, this is a prototype and has only been in lab test for a week or so. Hence there may be a few teething problems, all of which you will get to see live on this channel!
Given that this is the first substantial new communication from Steorn in some 3 months, it's disappointing that there is no update on the progress of the OPhone or OCubes, or on when they may ship to customers.
As for the meaning of what is being presented today, that depends on what we choose to believe about Steorn. If we believe that they're perpetrating a con, a point of view whose support has only grown with Steorn's actions over the last few months, then this is just the latest in their circus of delays and misdirection, meant to give the illusion that progress is continuing forward so that investors will continue to pour in new money. If we believe that Steorn honestly thinks they have something, and have just run into a lot of stumbling blocks in the process of turning it into a marketable product, then at least it's a positive step that they have something they consider reliable enough to be worth showing, even if the test procedure isn't rigorous enough to prove anything by itself.
At best, this is an interesting diversion as we wait for Steorn to be confident enough in their devices to again attempt to start sending them to customers.
UPDATE    6/2/16
Since this was originally posted, the live stream has gone dead and come back a few times, the motor has stopped turning and has been replaced, the current displayed on the oscilloscope has gradually declined, and products on the Orbo.com store have gone up for sale again, and then been marked "sold out" again. Nothing terribly noteworthy. The most amusing bit, however, was when the livestream went dead because Twitch shut it down for violating their terms of service due to being "non-gaming content". That's why the stream was then relocated to YouTube. (Although, oddly enough, to YouTube's Twitch-equivalent gaming site. Just asking for another TOS violation?)