Irish president Mary McAleese visited the Steorn offices on October 4th.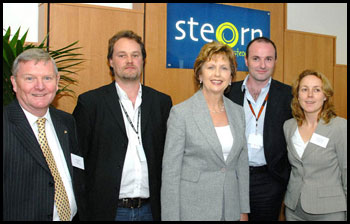 Irish president Mary McAleese beside Steorn CEO Sean McCarthy
While this is further evidence that Steorn is still up and running, she unfortunately was not there to announce a prosperous future of free and clean energy. Instead, she was commenting on the success of Ireland's Bolton Trust, an institution providing capital to encourage the growth of innovative new companies, which has provided some funding to Steorn. Her speech, which never mentions Steorn specifically, can be found here.