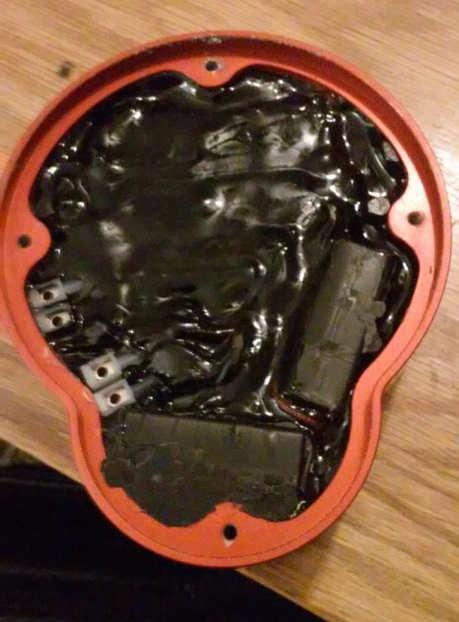 Steorn's spokesmodel Rachel Wallace (aka "#ogirl") has given her second weekly update on her experience with the OPhone. In the brief video, she states that:
The speaker wasn't really working, so I came in to the offices today to get it fixed… As for the battery, same as last week, every time it runs off, couple minutes later it turns back on, I've got full battery again.
After Wallace gave her first update last week, I questioned how the OPhone could be reading a full battery just minutes after it had shut off due to low power. Even if Orbo generates power as claimed, it would take longer than a few minutes to fully charge even a small Li-ion battery.
Today Steorn addressed this issue in a comment on their Facebook page:
[T]he ophone contains a capacitor that directly powers our phone. During extensive use this capacitor may become discharged, however this capacitor is being constantly trickle charged by Orbo. So after a period of time the capacitor will be recharged and the phone will be functional again…To fully recharge the capacitor can take several hours, however enough charge to power the phone back on can typically be achieved within several minutes…[T]he charge characteristics of a capacitor are very different than those of an LI battery. The battery indicator on the ophone is designed for an LI battery, hence it can show fully charged even when the capacitor is not fully charged.
The new information here is that the OPhone uses a capacitor, rather than the Li-ion battery that it was said to contain in previous statements by Steorn. This fact makes sense of Wallace's observation of a full charge indicator just a few minutes after the phone had powered off.
The fact that Wallace needed to bring the OPhone back to Steorn for service to its speaker does muddy the already murky waters of her user testimonial a little further. It introduces the possibility that if Steorn is running a scam, they could easily have used such an opportunity (and even engineered the need for such an opportunity into the OPhone given to Wallace) to replace the batteries in the phone, so it could continue to appear to be generating its own power. Wallace's testimonials so far don't provide any evidence that Steorn is running a scam, but they are so poorly controlled that they don't provide evidence for Steorn's claims either. I suppose their real purpose is not so much to provide evidence as to generate interest, anyhow.
I received a report from a longtime reader in Dublin who spoke yesterday with Jennifer Roe, the other friend of Steorn who is testing an OPhone for them, at the bar where she works. According to his report, Roe said that her OPhone worked fine for 5 days, without ever shutting down and recharging as Wallace's has. It then went dead. She said that Steorn will be coming out to her today to fix it, and that she'll then post an update on the Orbo Facebook page.
As with Wallace's use of the OPhone, the reliability of Roe's test is compromised by the need for Steorn to modify the phone after the test has begun. This is a new product in a very early stage, so unforeseen problems are expected. But if these phones keep having to return to home base every week or so for some kind of tune up, then a suspicious pattern emerges.
In other news, Frank Acland's OCube tests have yet to produce encouraging results. After initially being able to light an LED lamp for long periods of time, it has gradually been reduced to lighting the lamp for shorter periods and now just brief flashes, and requires longer intervals between attempts in order to produce any light at all. Again, because (according to Steorn) Acland was incorrectly shipped an OCube that was undergoing testing with a capacitor in place of the standard Li-ion battery, it's unclear what is responsible for its faulty behavior.
Acland did finally succeed in removing the OCube's lid, however. Unfortunately, this revealed that his OCube has been "potted", meaning it's been filled with a substance (probably epoxy resin) that prevents access to its components. This is often done to protect electronics from moisture and vibration, as well as to prevent prying eyes from stealing intellectual property. That may be the purpose here; though a more suspicious reading is that this was done to prevent the device's fraudulent workings from being revealed. Whatever the purpose, the potting makes it virtually impossible to isolate and test the Orbo powerpack on its own.
Steorn told Acland that if he removed the back lid, he would have access to a set of terminals that do connect directly to the Orbo powerpack. In fact, opening the lid exposed two different sets of terminals. In the best case scenario, one of these sets will connect directly to the Orbo powerpack, and Acland will be able to measure any power that it generates, without interference from the capacitor or any other intervening components. Testing this out is the next step for Acland, so we should get results soon.
When Shaun McCarthy first described the OCube, he talked about it as something that buyers could and would tear apart, and put to the test however they would like. Since then, it seems Steorn has had a change of heart. The one OCube known to have shipped is filled with epoxy and has a sticker on the inside of the lid saying "Warranty void if removed." They've behaved like this in the past as well. They never demonstrated clearly working devices to the "jury" of scientists and engineers that they themselves enlisted, and they held back important information from the SKDB, the community of engineers they put together with the stated purpose of testing, replicating and further developing their claims. Why does Steorn repeatedly seem to hold back when just on the verge of providing concrete evidence that they have a revolutionary new technology? To a cynic, the answer is obvious: they simply have nothing to show; they can't provide evidence of something that doesn't exist. That may be true. Another possibility is that this behavior comes from a strong concern about losing control of their intellectual property. As soon as they've given out enough information to allow others to replicate their effect, the cat is out of the bag and without patent protection (which is not granted to devices that purport to generate free energy) any company could produce copycat Orbos.
If anyone at Steorn is reading this, and if in fact you do believe that Orbo works as claimed, please reconsider this strategy. If the Orbo does generate energy, a few millimeters of epoxy will not get in the way of companies determined to uncover how it works. But that epoxy, and the attitude of secrecy that it represents, is actively hindering people who want to find out if Orbo works, who are hoping to find evidence that it pulls off the miracle you claim it does. As I understand it, Steorn's reserves are running short and its ability to keep itself afloat depends on Orbo being taken seriously in short order. There are probably thousands of people who've been following your story, who want your claims to be true, who just need to see concrete evidence for themselves. Sell them, sell us your power cells directly so we can run the simple tests that will tell us whether they work — and then find all kinds of applications for them. Once they're out there, if they work, there will be no end to the noise people make about them, and the products people will want to license them for. Sealing them up in epoxy won't keep their workings secret, but will deter honest attempts to find out whether they work at all. Unless that's just what you want, I hope you will reconsider.