After two days of delays and excuses, Steorn has canceled the planned 10 day demo of their Orbo free energy device that was to be held at the Kinetica museum in London. They've released the following statement:
Further to Steorn's announcement yesterday (5th July) regarding the technical difficulties experienced during the installation of its "Orbo" technology at the Kinentica Museum in London, Steorn has decided to postpone the demonstration until further notice.

Sean McCarthy CEO stated that "technical problems arose during the installation of the demonstration unit in the display case on Wednesday evening. These problems were primarily due to excessive heat from the lighting in the main display area. Attempts to replace those parts affected by the heat led to further failures and as a result we have to postpone the public demonstration until a future date."

He continued that "we apologise for the inconvenience caused to all the people who had made arrangements to visit the demonstration or were planning on viewing the demonstration online."

Over the next few weeks the company will explore alternative dates for the public demonstration.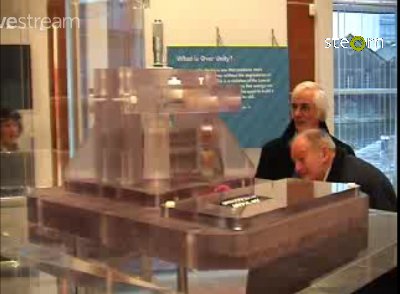 Questionable quote below empty demo box: "For an engineer nothing is impossible."
CEO Sean McCarthy made himself available for questions this afternoon to a group of people who had traveled to London to see the demo, but the content of this talk is not yet available.
Steorn has captured some of the media attention they were seeking, though perhaps not with the desired results:
Forbes: Powered By Blarney?
CBC: Energy-from-nothing device fails to move
Guardian Blogs: Another case of too good to be true?
Engadget: Holy snakeoil Batman, The Steorn Orbo exhibition has been canceled.
Belfast Telegraph: Irish firm's display of 'free-energy' machine delayed
BBC: The perpetual myth of free energy
The Economist: Perpetual nonsense
What does this debacle mean for the future of Steorn? The way I see it, either 1) Steorn has actually discovered a means of producing free energy, or 2) they're frauds, or 3) they're too incompetent to realize that they have nothing. Over the past year they've taken every step I'd expect from a company that is confident that they have something revolutionary and real. Finally they put it all on the line by orchestrating a media event to introduce their technology to the public. And then… they fall flat on their face.
They put a lot into this demo; it was polished, set in a well designed space peppered with brazen quotes about the power of scientific creativity to overcome rigid dogmatism, and centered around a simple transparent box that could be viewed from any angle in that London room or in the online world. I believe that they expected it to work. But with delay after delay, it refused to. Why? The reasons we've been given so far don't sound very solid. First they broke some bearings, but were quickly able to replace them. Then they found that the plexiglass construction of the device had been permanently warped, and they placed the blame on heat generated by the lighting.
This raises the question of their competence. Can museum lighting several feet distant permanently warp plexiglass? Let's charitably assume that it can. Why had they not previously tested the device under the conditions of the demonstration? Why didn't they have a backup device, or at least backup parts? In the two days they spent fiddling to fix it, why couldn't they have flown in another device from their lab in nearby Ireland? This week's events demonstrate that Steorn doesn't have the competence to stage and test a reliable and successful display of their device. But where does this incompetence end? Does it run so deep that they've succeeded in deluding themselves for years about the reality of their discovery?
Proponents of the "fraud" theory can find support in this failure as well. Some think that Steorn was prepared to display a device that faked free energy, and they failed to even get that decoy running smoothly. Others posit that this week's failure was planned from the beginning, so they can claim that they honestly intended to demonstrate, but were thwarted by Murphy's Law. I doubt the former approach because, even if they succeeded in demonstrating a fake device, where would that bring them in the long run? It would only raise expectations and media attention, while they would still have nothing genuine to deliver. I also doubt the "planned failure" hypothesis because this was an expensive and unnecessary ordeal, their reaction appears to have been one of genuine panic, and they've lost far more credibility than they've gained.
For these reasons, I'd place my bets right now on incompetence rather than fraud. Whether they're lacking merely in the ability to stage and test an impressive demonstration, or lacking the more fundamental ability to recognize that they do not have what they believe they have, still remains to be seen.