Amidst all the talk about Steorn's spectacularly failed demonstration, it's easy to overlook the most interesting new bit of information that did come out of all this — Steorn finally revealed what a working Orbo looks like. It appears that their press package for what they seem to have anticipated would be a successful media event included photos of Sean holding an Orbo device, and the central "rotor" disc does look to be spinning. The photo showed up in several articles during the past week, including coverage by the BBC, here. Below is a closeup of the Orbo: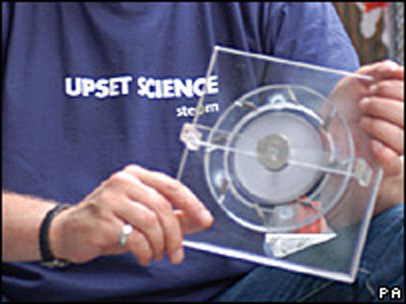 Whether the Orbo is capable of working as claimed is as yet unknown, but that hasn't stopped people from analyzing how it's put together and how it would work if it could. Steorn forum member Axle posted several images showing an exploded view of the Orbo based on the published photos:
The "stator" is shown in green and blue, and contains a circular arrangement of eight magnets fitted into slots around the periphery of a central cavity. In that cavity spins the "rotor", with four magnets around its circumference. The stator and rotor are connected by two bearings, seen in orange — the weak links that, according to Sean, put an end to the demo.
Some of this detail is conjecture, given the quality of the photos that the design is drawn from. The design resembles a variation of a classic magnet motor, a recurring motif among attempts to create perpetual motion machines. A magnet motor cannot generate more energy than is put into it because, due to the way magnetic fields work, there will either be a stable state where the rotor is being pushed in one direction just as strongly as it is being pushed in the other direction, or else the operation of the motor will progressively weaken the magnets themselves until the spinning stops. If Orbo does work, then it's doing something very unusual with the configuration of magnets, perhaps (according to Sean) somehow taking advantage of the time variance involved in the effect of magnetic viscosity. (Some members of the Overunity forum are trying to figure out how this might work).
Until (and unless) Steorn reveals just how their Orbo is put together, all we can do is make speculations based on what little we have seen. But if Sean is holding a spinning Orbo device in these published photos, I think we can narrow down the possibilities of what it actually is to these four:
1) A fake — hidden in there somewhere is a battery, strong enough to keep the device running for a few days (or maybe, as it turned out, just a few hours).
2) A type of "magnet motor" that will spin for a while, during which time the magnets themselves are weakened, eventually stopping the motion. This is in direct contradiction with Steorn's statement that tests showed no weakening of the magnets… but we've seen that Steorn's engineers (like any, to be fair) are not infallible.
3) A very low friction magnet motor that will keep spinning if held and jostled a bit, but that without this small input of energy will eventually slow to a halt. It's possible that such a device could have fooled Steorn into believing they had a perpetual motion machine. This is difficult to reconcile with Sean's claim that a test Orbo has been run continuously for several weeks, however — unless it was being carefully cradled by a hopeful and deluded energy source for part of that time.
4) It just might, of course, be the real thing.